Information
Muni-Downhill July 14, 2013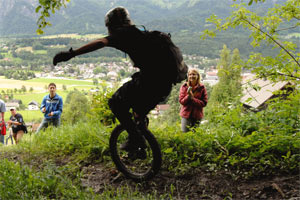 Categories / Starting Times:
Men AG1 (born 1998 - 1974) - 09.00 am
Men AG2 (born 1973 and older) - 09.02 am
Women AG (born 1998 and older) - 09.04 am
U15 m and w (born 2001 - 1999) - 09.06 am
U12 m and w (born 2002 and younger) - 09.08 am



Online course map


Download course map


Equipment/Regulations:
+ No running!
+ The unicycle must be pushed when walking!
+ The wearing of a helmet, gloves and knee pads is obligatory!
+ Only Munis up to 26" (U12 up to 20") and without transmission (gear) permitted!
+ The regulations of the International Unicycle Federation (IUF) apply!


Entry Fee:
Entry fee 10,- Euros when transferring the amount before April 1st
Entry Fee 15,- Euro when transferring the amount after April 1st or when paying cash on site.

Race Number Distribution/Late Entries:
Saturday from 02:00 pm until 07:00 pm and Sunday from 07:00 am until 08:00 am at the Volkschule
Attention! Be sure to return your timing transponder otherwise we charge 60,-- Euros!

Bank Account Austria
VKB Bank Bad Ischl
BIC (Swift Adresse): VKBLAT2L
IBAN: AT55 1860 0002 1302 2900

Bank Account Germany
HypoVereinsbank
BIC (Swift Address): HYVEDEMM410
IBAN: DE42 7102 0072 0009 3851 42

Account Holder/reason of payment:
Mountainbike Club Salzkammergut, A-4822 Bad Goisern, Kirchengasse 4
Entry fee Muni Downhill, please specify participant's name and birth date!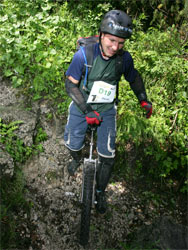 Shuttle-Service:
Friday 05.00 pm until 06.30 pm (Training)
Saturday 05.00 pm until 06.30 pm (Training)
Sunday 07.00 am until 08.15 am (to the start)

Departure: Parking Space "Goisern Mitte". For participants of the Unicycle-DH for free.

Showers:
Changing and taking showers is possible in the "Neue Mittelschule" (HS1) as well as in the public pool facilities between 10:00 am und 04:00 pm

Winners' Ceremony/Prizes:
At 12:30 pm in the grand pavilion in the center. The top three of each category receive great trophies!

The ÖM Rating is only for participants with Austrian citizenship. Medals are also waiting for the three fastest Munis!

For the whole schedule please see www.trophy.at/programm


Information:
TV Dachstein Salzkammergut
Kirchengasse 4, 4822 Bad Goisern
Tel.: +43 (0)6135/8329
E-Mail:

Registration:
www.trophy.at